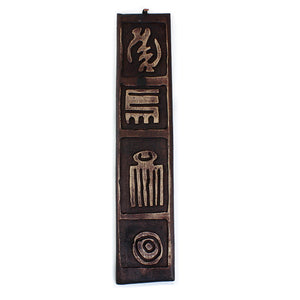 Rich with West African symbolism, this wooden decorative wall plaque represents a true piece of African heritage and adds a creative touch to any home or office. Makes a great housewarming gift!
Originated by the Ashanti people, Adinkra symbols are visual icons that generally represent beliefs or proverbs. 
Includes four symbols: 
Gye nyame: "Except for God", representing the power of God. This symbol emhasizes placing God above all that you do.
Nkyinkyim: "Twisting", representing the difficulty of life's journey. This symbol means you should be resilient and versatile in the face of life's twists and turns.
Dua Afe: "Wooden comb", representing femininity and cleanliness. This means focusing on positive feminine qualities such as grooming, patience, and care.
Adinkrahene: "Adinkra King", representing authority, leadership, and charisma. This signifies the importance of being a leader.
Approx. 23.5" tall x 5" wide. Color may vary slightly as no two are exactly alike
Made in Kenya
---Please allow up to two weeks for delivery of pre-order item