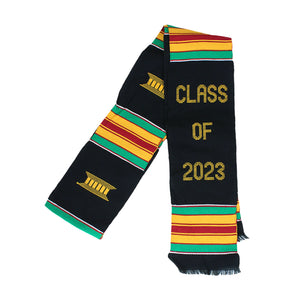 Carefully & professionally hand woven by master weavers from the Ashanti region in Ghana, West Africa - a skill passed down from father to son for generations. 

Perfect for your favorite upcoming graduate to represent in signature & authentic African style! 
Black, red, green, and yellow with Ashanti stool motifs. 100% cotton. 66" x 4.5"
Made in Ghana
Please allow up to two weeks for delivery of pre-order items.