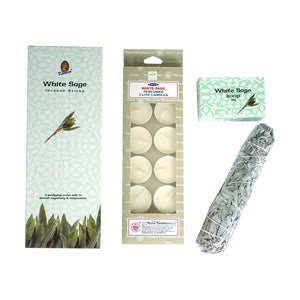 Inhale, exhale! Set your intentions and bring positive energy to your home or office.
Sage smudge sticks are often used as the quickest way to clear out negative energy from both objects and surroundings. It is one of the oldest and most well-known herbs for cleansing energy within your home or workspace and is known to be excellent for meditation, cleansing, and smudging.

This cleansing kits will leave your space feeling lighter, brighter and refreshed.

Includes: 

White Sage (Kamini) Incense = 120 Sticks
White Sage Smudge Stick
White Sage Soap (3½ oz)
White Sage Tea Light Candles

 
Caution: Be sure to smudge with care, using a non-flammable container in which to catch ashes as the sage burns. Please keep away from children, pets, & other flammable material. Please also keep your windows open. Please make sure that a smudge stick is COMPLETELY out before leaving the area unattended.
Sage Smudge Sticks & White Sage Soap also sold separately

Please allow up to two weeks for delivery of pre-order items