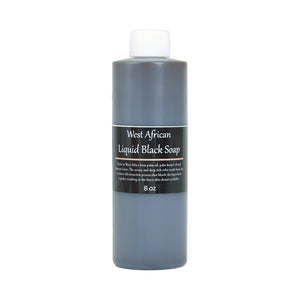 Get healthy and nourished skin with this all natural West African Liquid Black Soap. Full of antioxidants that protect skin & combat acne, it evens out and fades age spots and discoloration while cleansing & gently exfoliating. Its rich, creamy lather will have you feeling refreshed and silky smooth! 
Black soap has always been prized in Africa for its healing properties. Its natural ingredients are also helpful in restoring damaged skin and healing chronic eczema. Unisex & great for any skin type!
Made in West Africa. 
Natural Ingredients: Water, Cocoa Pod Ash, Plantain Skin Ash, Palm Oil