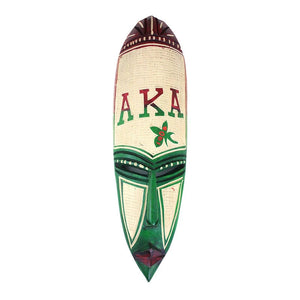 Add some pride and African flair to your home, office, or sorority house with this eye-catching African Fang Mask. Inspired by the first official black Greek women's organization, Alpha Kappa Alpha Sorority, Inc - it makes the perfect crossing, anniversary, chapter, or housewarming gift! 
Each mask includes the sorority colors, symbols, and hand painted embellishments on a natural color background that fits well with most home décor. 
Approx. 18"h x 6"w. May be slight variations due to the nature of handcrafting. 

Made in Ghana